Did you participate in KCWC over at
Elsie Marley
?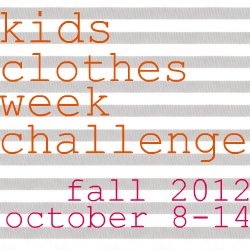 This was my second time and I'm happy to say I actually finished a few peices. (I think in the spring challenge it was 2 weeks later that I finally had a finished piece!) I'll admit that my original list going into the challenge was more than I expected to get accomplished, at the same time I loved working to the list. One of the challenges I have with sewing for my kids and blogging is the "self-directedness". I'm great on a deadline: focussed, efficient, strategic, creative, decisive. Without that pressure I seem to lose all ability to make decisions and plan the work, aargh! But I love KCWC because it gives me a deadline for my work.
So here we are, my first attempt at pants for the boy. I use
this
tutorial by dana at made. The tutorial and pattern were great but I made a couple of errors. I should have done a simple pair of basic pants first just to get a feel for the pattern and fit on my little guy. Instead I went for all the bells and whistles first time out...the pockets, the lining... what can I say, I love "features". :) As you will see the pockets are a little off, and they are a little bulky, but I'm sure when January hits the little guy will be cozy in these pants and with a sweater, who will notice the uneven pockets, right?
For my daughter I made a simple nightgown. I based the pattern on
this
tutorial from indietutes, just made it A-line and longer. I had used the tutorial to make a blouse in the summer that I was pretty happy with so it was no surprise that this turned out great. My daughter put it on as soon as it was done and requested a pajama day the next day just so she could keep wearing it. Is there any better reward for making your kids clothes?
The last pieces on my list were the Halloween Costumes for both kids. I love making costumes so they were kind of the reward for completing the items they needed and while the costumes aren't completed I've made some progress with patterns modified and cut, fabric and embellishments prepped, 25 of 50 applique pieces cut. I can't wait to get pics of the kids in their costumes this year. Last year's costumes were the first sewing I'd done since high school so they were a little rough and I hope this year they look a little more finished.